Scott Marshall, founder and managing director of specialist bridging lender Roma Finance, has been named the winner of the "Business Leader - Bridging Lender Award" at the British Specialist Lending Awards 2020.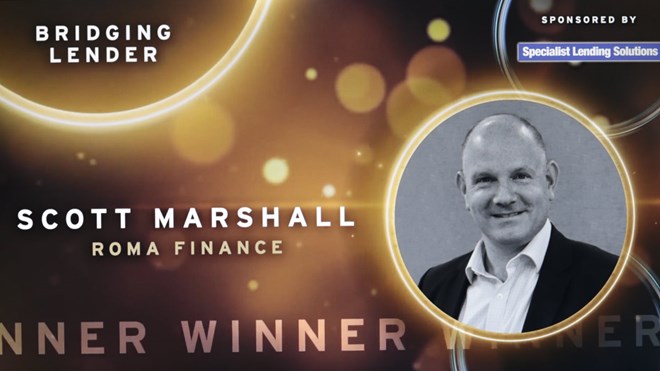 Within a unique online setting the British Specialist Lending Awards 2020 winners were announced in 22 categories spanning the breadth of the industry.
Since its launch in 2008, Marshall has worked tirelessly to grow Roma Finance from humble beginnings to become a major player in the bridging finance sector today.
A spokesman for Roma Finance, a lender renowned for both flexibility and reliability in the bridging and development sectors, spoke warmly of the achievement.
He said: "We are absolutely delighted that Scott has been named the winner of the Business Leader - Bridging Lender Award at the British Specialist Lending Awards 2020!
"This is such a proud moment for Scott and Roma Finance as a whole, as we have made every effort as a team to support intermediaries, customers and the industry."
There was praise also for the way in which Roma Finance has been able to navigate the choppy waters presented by the global pandemic, a fact acknowledged by Marshall when he thanked all of Roma's partners for their support over the years and particularly during an "unbelievable" 2020. He added:
"Thank you for all of your support over the years, this is a truly pinnacle moment! There is much more to come so please watch this space!"
The award comes three months after Roma Finance ended furlough for its entire operational team following record business levels in 2020 and appointed Nick Jones to its board as commercial director.
Jones joined Roma from Together, where he spent the past 20 years. In his newly created role, Jones is responsible for the business' overall commercial strategy, identifying opportunities, developing new products and overseeing sales and marketing.
At the time, Marshall said: "It continues to be a very exciting time here at Roma and I am absolutely delighted to welcome Nick Jones to the family and the remaining members of the team back from furlough.
"It has become clear with the recent growth that we need to upscale the team numbers to ensure we can still provide outstanding service."
Jones confirmed: "I am delighted to be part of Roma Finance Team as they continue to build on their significant heritage. After 25 years in the industry and the incredible journey I've had so far, I remain as passionate about the intermediary market as ever and confident my knowledge and experience will help drive Roma Finance forward to achieve its full ambition."