How can you make investing in property a profitable income stream? Going from hobby investor to a professional with a healthy passive income is a big step, but it's one you can make. If you want to take your investment portfolio to the next level and become a full property developer, this is the guide for you.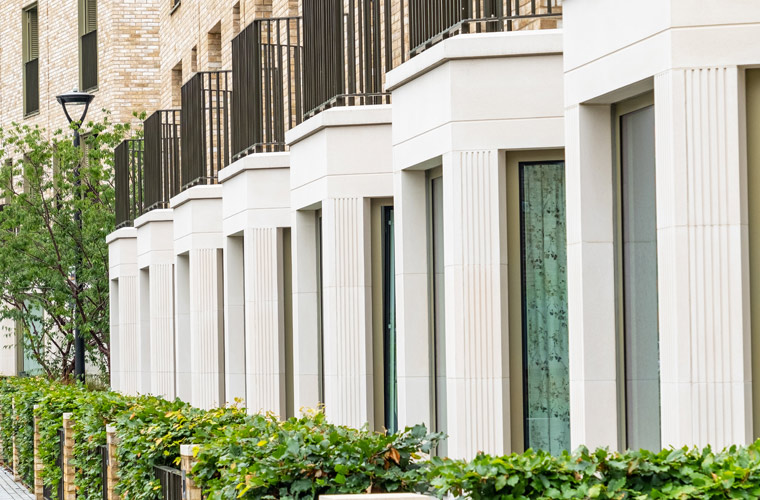 Who can become a property developer?
There are no qualifications for becoming a developer, but there are also no shortcuts. Anyone who tells you that property development is an easy "get rich quick" scheme is trying to sell you something. It takes hard work, determination, and a good understanding of how to get where you're going. If you can provide the first two, we'll help you with the third.
What do I need to begin property development?
All property developers look different. You might have several "hobby investments" already, which you're looking to leverage into something more substantial. You may be starting out completely fresh, and building a portfolio from scratch. There are a few things that you'll need to have in order to succeed, though:
Access to capital
To build or extend a portfolio, you need to invest capital. Whether this is taken out of savings, borrowed from friends and family, or from remortgaging existing assets, you need some way to add property to your portfolio.
A way to add value
You need to increase the value of any property that you purchase. There are lots of ways to do this; renovation is a tried-and-tested strategy, but requires additional investment and expertise to complete successfully. Other developers opt to increase the yield of property, turning houses into Houses in Multiple Occupation (HMOs) to increase the rental income they provide.
If you have a shortfall in one of these areas, you can compensate in the other. Investors with a lot of capital can afford to make a smaller margin on each property, while expert developers can make a handsome profit without access to a lot of capital. Let's take a closer look at these two crucial aspects of property development.
Finance for property development
Perhaps one of the most important components of successful property development is finance. There are several options on offer for securing finance and each will be appropriate for different individuals.
Personal borrowing
This is a common route for first-time developers. Money is borrowed from friends and family or as a personal loan from a bank. There may be a formal agreement in place, but these loans are not usually secured against the property itself. It's usually easier to get hold of the money and it comes with fewer strings attached, but there is a fairly low threshold to the amount you can borrow in this way.
Mortgages
A typical property can be secured by borrowing from a bank or mortgage specialist. This is a very rigid, slow-moving form of borrowing, and lenders will expect you to meet stringent requirements. However, it is possible to borrow a very large amount of money in this way.
Other secured lending
Other forms of finance are available. One very common option in the property development sector is bridging finance. Loans of this type are secured against the property in the same way that mortgages are. However, they typically come with less stringent lending criteria and can be put in place much more quickly. Furthermore, developers can also leverage other properties within their portfolio as security for a loan. The flexibility of bridging finance allows developers to buy properties that cannot be mortgaged, such as uninhabitable properties or those with short leaseholds. Bridging loans are typically only suitable for short-term use, to "bridge the gap" before longer term funding can be put in place.
If you're intending to rent out the property, be aware that mortgage requirements differ for rental properties. They require a "Buy-to-Let" mortgage, which tend to be more expensive and have more stringent deposit and cashflow requirements than owner-occupied mortgages. Buy-to-let purchases also incur Stamp Duty charges, and landlords are no longer able to offset the full cost of a mortgage against their taxable income.
Adding value to property
You need to turn a profit from your development. While real estate investments have been a solid choice for a long time now, if you want to become a professional property developer, you'll need to do more than just sit on them. There are many ways to make a profit here; the following list is just a selection of some common options that property developers use.
Renovation/refurbishment
One of the most common ways to add value to a property is to upgrade it. Houses in need of extensive renovations can be bought cheaply, but it requires skill and investment to bring the house up to saleable condition. Be aware that properties in an uninhabitable condition are usually not mortgageable.
Short leasehold purchase
Leasehold properties (typically flats, but some houses too) which have a lease of less than 80 years are considered to have a "short leasehold". Few banks will approve a mortgage for these properties, making them hard to sell. Buyers who can purchase the property without a mortgage then buy a leasehold extension, will often be able to sell the property at a profit. Prospective buyers should be aware that a leasehold extension is often very expensive, typically running into tens of thousands of pounds.
Property redevelopment
Many properties can be repurposed from their original designs. This is typically done with large houses, which are subdivided into multiple flats. It can also be used to develop homes into commercial property or vice versa. The permission and extensive work required to achieve this makes it a suitable project for those with pre-existing expertise (or access to it).
Rental income
Renting a property out is another way to increase its value to you. A recent taxation squeeze on buy-to-let landlords has made it trickier to turn a profit on rental income. This makes it essential to pick the right property, and you'll need to do your homework. You should also consider whether you want to be the landlord yourself, or whether you'll hire a property management specialist to handle this.
Where do I begin with property development?
Don't start arranging a visit to a property auction just yet. Your first job is to plan - a lot. You need a crystal-clear idea of what you're getting into before you put your money on the line. That means you'll spend a lot of time on research, understanding how the market works, what tools are available to you, and what your markers for success are. These are some of the questions you need to have answers to before you think about making a purchase:
Where will you be investing - in your local area, nationally, overseas?
What will you be investing in - new builds, listed properties, large homes, small homes?
What is your chosen market like? If you're looking at large homes in Richmond, what's a good price for a 4-bed near the river? How does this change as you move closer to Brentford? Do these tend to get snapped up, or is the market sluggish?
How much can you afford to pay? Have a soft ceiling and a hard one - an "ideal" price, and a ne plus ultra that you cannot go beyond
How will you pay? Will you remortgage your home or look for a Buy-to-Let mortgage on the new property? Would it make sense to seek out a bridging loan to get the deal done quickly, or does this leave you too exposed?
What will you do to the property? If you're renovating, who's doing this, will planning permission be required, how long will it take, and what will it cost?
How long will you own the property for? Are you looking to sell it within a few years, or add it to a long-term portfolio? How will this affect your cash flow?
These are only a few basic questions - they should trigger a lot of detailed research. Because everyone's situation is different, we can't provide specific advice (and this guide shouldn't be taken in this way). However, anyone getting into property development needs to have carefully considered all of these issues before making any purchases.
Building your portfolio
In many ways, the first few purchases you make will be the most difficult. Once you have several properties in your portfolio, you'll be able to use them as security for further investments. This can create a "snowball effect", where each investment makes it cheaper to borrow more money, thus making it easier to make further investments. Additionally, larger portfolios will benefit from economies of scale, since the organisational and administrative costs of portfolio management tend to be relatively fixed.
It's a good idea to plan ahead, so choose financial and organisational strategies that will mesh well with an expanded portfolio. For instance, forming a limited company can offer tax relief - smaller developers may not find it worth the effort, but someone with a larger vision may find it very beneficial.
Making a success of property investment
As with any major investment decision, you need to know what success will look like to you and find ways to measure it. Do you want to be hands-on, taking care of every last aspect of managing your portfolio? Or will this be a passive income stream; not as cost-effective, but leaving you with plenty of time to enjoy? Decide what your future will look like, and you can steer a course toward it